Concrete Product Supplier

We supply and install quality flooring systems to meet all our customer needs. We work unsociable hours to keep downtime to a minimum!
• Quality Service
• Ease of Installation
• Wealth of Experience
• Customer Satisfaction
• Reliable, Efficient Service
• Highest Quality in Standards
• Price Match any Genuine Quote
If you have any questions or would simply like to chat to a member of our expert team then call us today we have many more patterns and colours to choose from to suit your needs.
KS Driveways can help you create the ultimate first impression. We can provide you with a driveway that has all the beauty of natural stone, slate, cobble or brick in a wide variety of styles and colour to suit your home and your individual preferences.
KS Driveways provide the highest quality surfacing available whilst being equipped to apply the materials. KS Driveways are specialists in pattern imprinted concrete. With all of our services, experience, effort and care we can create the ideal driveway which will become a credit to both the owner and their property.
Pattern imprinted concrete gives an outstanding finish to any driveway, garden path or patio and the design can be customized by you to suit your needs. Concrete is an incredibly versatile material, it can be applied, printed and coloured in many different ways and is a remarkably beautiful addition to any property, business or home.
Specially selected mixes with additional fibres are used to create a tough, long lasting surface that looks very impressive. Unlike other surfaces that require frequent maintenance such as block paving, weeds cannot grow through pattern imprinted concrete as it is applied four inches thick on top of hardcore and sealed with a liquid sealant that adds a high quality, clean finish to the final appearance of your project. Your driveway can be made unique in the shape, colour and style combination that you select.
Pattern imprinted concrete is a highly innovative method of stamping the surface of freshly poured ready mixed concrete to simulate the look of cobbles, brick, sale, tile, stone and more.
A specially formulated, high strength, fibre entrained concrete mix is poured on site, dry shake colour hardener is then floated into high surface and imprinted by our highly experienced "perfectionist" craftsmen to give an individual, beautiful appearance to every installation. Imprinting is achieved by the use of texture mats.
Pattern Imprinted concrete is by far the most superior paving system on the market place with minimal maintenance that will last a lifetime.
KS Drives are weed and maintenance free, are designed to prevent sinking and spreading. Guaranteed to bring you years of lasting pride and pleasure.
Our driveways will add value to your property and above all have an immediate and positive impact on the look of your home or business.
KS Driveways use only the highest quality materials, which conform to the British standards. The concrete formulation contains fine fibres and air entrainment and once sealed is 33% harder than standard concrete.
KS Driveways offer a design and build service that will guarantee to provide you with an unique new driveway, path or patio to enhance your home and garden.
Once you have selected the design and colour combination, you can also select from a range of custom features such as circles, solider course and other details that will ensure your paving is truly unique. Ask our surveyor for details on these features and discuss how they can be included in your installation. All our driveways and constructed to industry standard by skilled teams. Let us add you to our long list of happy satisfied clients.



CreativeConcreteSolutions

Tarmac Approved Installers


The Complete Exterior Transformation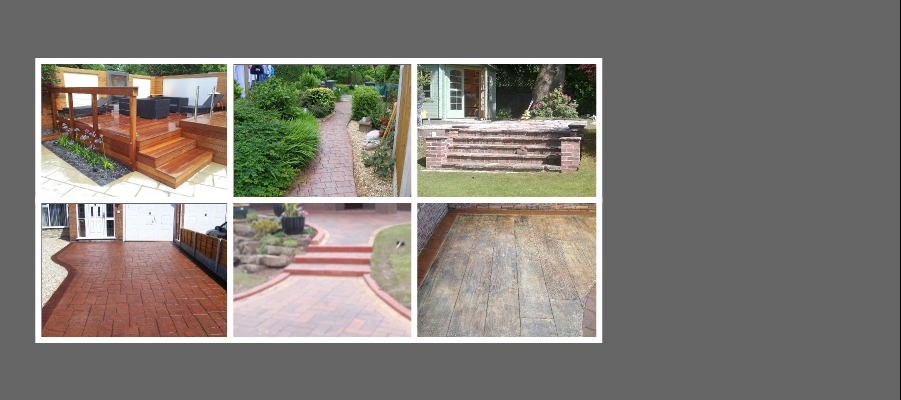 • Imprinted Concrete
• Coloured Concrete
• Brush Finished Concrete
• Groundworks
• Indian/Stone Paving
• Block Paving
• Resin Driveways/Paths
• Stone Walls & Steps
• Building Services
• Barn Building
• Gates, Fencing & Decking
• Sheds, Stables & Car Ports
• Self Levelling Screed Systems
KS Driveways Providing Creative Solutions
We're flexible! We tailor our services according to our customer's requirements
© KS Driveways 2017 | All images are Copyright of KS Driveways and may not be used without consent