Concrete Product Supplier

What is Pattern Imprinted Concrete?
Pattern Imprinted Concrete is a highly innovative method of imprinting the surface of freshly
poured ready mixed concrete to produce a beautiful concrete design that gives the look
of stone, brick, cobbles, tile and stone.
There is a huge range of colours and patterns
that can be applied for any environment.
First developed in America in the 1950s. The process introduced decorative paving techniques to reproduce the look of individual stone paving.
Pattern Imprinted Concrete works by incorporating colour and patterns into poured concrete. The fibremesh reinforced concrete is enhanced by the use of colour surface hardeners, release agents and acrylic sealants. Three dimensional stamping tools create unique and stunning designs.
Pattern Imprinted Concrete can be used to recreate many authentic stone effects such as Slate, Flagstones, Cobbles, York Stone, Wooden Boardwalk, and Block Paviers. With the use of innovative imagination, special effects and individual creations can be designed by combining several colours and patterns. The design opportunities are endless.
Pattern Imprinted Concrete is by far the most superior paving system available in the marketplace, which - with minimal maintenance - will add value to your property and last a lifetime.
KS Driveways was established in 1999 in Whitchurch, Shropshire and can transform your driveway, patio, pathway, terrace or pool surround with pattern imprinted concrete in various colours and patterns. The business is accredited and authorised by PICS, Lafarge and Bomanite.
Our Customers always come first!
Benefits of Pattern Imprinted Concrete
• Maintenance free - no sinking, spreading, weeds
• Oil and stain resistant
• Variety of colours that do not fade
• Durability that will outlast other forms of paving
• Anti-slip coating can be added to make the surface non-slip
Pattern Imprinted Concrete
Pattern Imprinted Concrete is ideal for:
• Driveways
• Patios
• Paths
• Indoor Flooring
• Industrial Flooring
• Conservatory Flooring
• Shopping Centres
• Care Homes
• Conservatories, Kitchens.....Just about anywhere!




CreativeConcreteSolutions

Tarmac Approved Installers


The Complete Exterior Transformation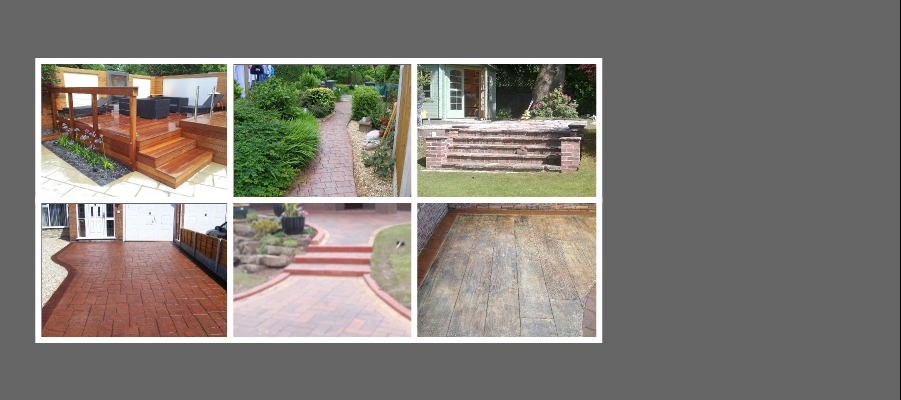 • Imprinted Concrete
• Coloured Concrete
• Brush Finished Concrete
• Groundworks
• Indian/Stone Paving
• Block Paving
• Resin Driveways/Paths
• Stone Walls & Steps
• Building Services
• Barn Building
• Gates, Fencing & Decking
• Sheds, Stables & Car Ports
• Self Levelling Screed Systems
KS Driveways Providing Creative Solutions
We're flexible! We tailor our services according to our customer's requirements
© KS Driveways 2017 | All images are Copyright of KS Driveways and may not be used without consent